This is a low cost project that uses a recycled wine corks, styrofoam wreath base, dried moss, wire, and hot glue.
And no, before you ask! I did not drink all of that wine! Two pregnancies during the project slowed its pace, but friends and family pitched into the supply. You can of course purchase corks if you don't want to wait to get a massive number of corks together. You can also make a smaller one...
I have made several of these wreaths! I've received so many compliments on them, so I made some for myself (of course) and some were gifts for friends. The time needed to complete the wreath depends on the size of the wreath.
Project Instructions
Use a styroform base to keep the weight down. Wrap wire (medium gauge) around the wreath base to make a hanger. Secure it tightly.
Hot glue the corks starting in the center hole of the wreath, working in circles and towards the outside. As I glued the corks to the base, I inserted dried spanish moss around the corks. The moss gives the wreath a more natural look and helps to hide the base. You will want to play with the placement of the corks. Since not all corks are the same size, they will not fit evenly. So you'll want to balance the sizes so it looks good.
I left some of the logo stickers on the some of the corks. I also turned some corks so the red from the wine is showing and some so the that wine opener hole is showing. I think these gives the wreath a more personal look.
Everyday a la Mode ~ Wine Cork Wreath (small)
Want to change it up for the holidays?
....A way to add some bling is to wind ribbon in between the corks! In the past, I have added a gold net-like ribbon to my wreaths for the holiday season. I removed it last season, but may put it back in this week. It adds a great sparkle!
Everyday a la Mode ~ Wine Cork Wreath (large)
Enjoy more!
Like the idea? I would be honored for you to link back to this post.
This project was the Guest Project Feature here!...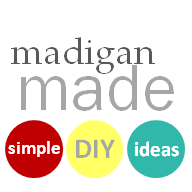 This project was linked here!...